LAGONDANET
---
---
INFORMATION
The Aston Martin Lagonda V8
In production: 1978-1989 (SERIES 2-4)
Chassis numbers: L/13001/R-L/13003/R; LOOR 13004-LOTR 13645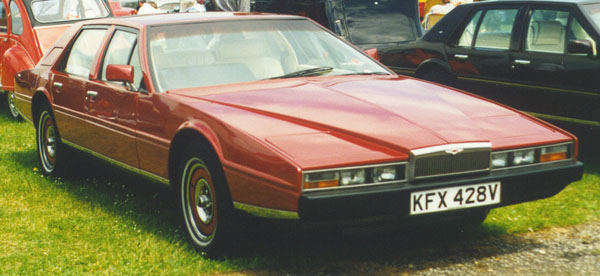 An early Series 2
On October 12th, 1976 a completely new car, the ASTON MARTIN LAGONDA, was revealed to the press at Aston Clinton. It had William Towns' styling, Michael Loasby's engineering and solid-state digital instrumentation, which led to its presentation as a new product type. Even the badge was an innovation, it was Lagonda, but with Aston Martin added. The production of such a car in about seven months was a remarkable achievement. It was 17 feet 4 inches (5,283 mm) long, 5 feet 11.5 inches (1,816 mm) wide, 4 feet 3.25 inches (1,302 mm) high, with a wheelbase of 9 feet 6.5 inches (2,916 mm) and track of 5 feet 1 inch (1,499 mm). Fuel was now supplied by four Weber 42DCNF twin-choke carburretors. Quoted maximum power output was 280 bhp @5,000 rpm, with a quoted maximum torque output of 360 lb/ft. Initially the weight was said to be 3,800 lb. By 1982, however, it had apparently risen to 4,551 lb.(2,064 kg). The 15 x 7 inch wheels had Avon GR70VR tyres. This spectacular machine, known as the SERIES 2, gained enormous publicity, and convinced many doubters that the company was very much alive. Delivery had been scheduled for Spring, 1977 (delivery of the first was on 24th April, 1978), but regular production, initially at the rate of about one a week, started late in 1978, with deliveries early in 1979. A Lagonda was used for development of a twin turbo-charged V8 late in 1980, and the Lagonda was cleared for sale in the USA in 1982. Detailed modifications and improvements have been made to the car since it was launched. For example, those announced at the Frankfurt Show on 13th September, 1983, included BBS wheels, US safety bumpers and spoilers as standard, revised seats, opening rear windows, and re-positioned switches. A conversion by Aston Martin Tickford Ltd, was unveiled at the London Motorfair on 19th October, 1983 priced at £85,000, it had a colour TV in the front as well as the back. About half a dozen such conversions were sold. A long wheel-based Tickford limousine version appeared in 1984, priced at £110,000 in the UK (described in Autocar, October 17th, and Motor, October 20th). It is believed only 4 were sold. At sometime between late 1981 and 1983, the car badge became simply 'Lagonda' again, first on the brochures, then on the cars.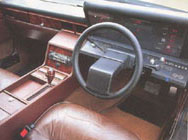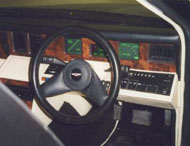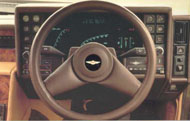 The first dashboard The second dashboard (CRT) The third dashboard (VF)
The NEC Show in 1984 was the UK debut for the multi-lingual Lagonda , with messages, warnings and displays being provided, from computerised instrumentation displayed on three five inch cathode-ray tubes (CRT), complemented verbally in either English, French, German or Arabic. Badges proliferate on the later cars (bonnet, boot, wheel centres, fuel filler caps, steering wheel and dashboard), whereas on the early cars they appear only on the radiator and wheel centres. Fuel injection by Weber-Marelli was announced at the New York Show in January, 1986, increasing the quoted maximum power output to 300 bhp @5,000 rpm in Europe, with maximum torque of 320 lb/ft), and 240 bhp in the USA.

A Series 3 car
This change heralded the start of a new series, SERIES 3. At the beginning of 1987 vacuum fluorescent instrumentation was introduced. Kerb weight had increased to 4,622 lb.(2,096 kg). Gearbox ratios were now 7.49, 4.43, 3.058:1 (reverse 6.73:1), with a final drive ratio of 3.058:1. William Towns rounded off the sharp edges of his design to produce the substantially different appearance of the SERIES 4 car, which was first seen at the Geneva Show in March, 1987. The four pop-up headlights were moved to a re-designed nose, where they look like six, fog lamps appeared in a new spoiler, the sills were deepened, and the new alloy wheels were now 16 inch bearing 255/60VR Avon CR27 tyres. Weight had increased to 4,547 lb. Fuel supply was via twin SU electric pumps and Weber-Marelli fuel injection. UK gearbox ratios had changed to 7.52, 4.45, 3.062:1 (reverse 6.75:1), with a final drive ratio of 3.062:1. Quoted maximum power output was 289 bhp @ 5,000 rpm, with a quoted maximum torque output of 3,21lb/ft @3,000 rpm. At the end of 1987 it was still being sold as the Aston Martin Lagonda.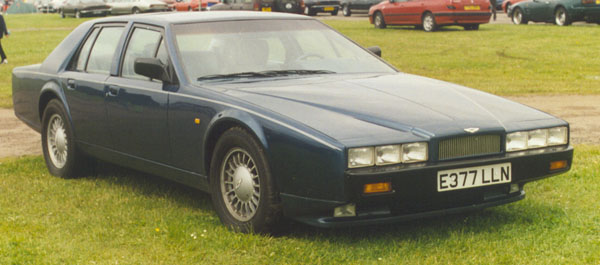 The restyled Series 4
A total of 645 Series 2 to 4 chassis were built before production ended in 1989. Of this about 30% went to the Middle East, with about 25% each to the UK and USA. Subsequently, a 2-door car has been built by the factory, and and a shooting brake conversion has been made in Switzerland. Road tests of a Series 2 car by Motor (October 11th, 1980) and Autocar (October 18th, 1980) recorded 0-60.mph in 7.9 and 8.8 secs, 0-100 mph in 20.3 and 20.5 secs, and a maximum of 145 and 148 mph respectively. Jim Whyman in Motor Sport (January, 1982), timed 0-60 mph at just over 9 secs. and 0-100 mph at 20 secs. Prices quoted include May, 1977 (£24,570); October 1977, £27,880 (£32,630); April 1979, £32,052 (£37,500); November 1979, £40,080 (£49,933); March 1981, £42,949 (£53,500); February 1982, £45,351 (£56,500); February 1983, £47,759 (£59,500); November 1983, £52,976 (£66,000); June 1985, £60,196 (£75,000); January 1986, £63,813 (£79,500); March 1987, £76,254 (£95,000). The price of non-standard trim increased from £288 (£337) to £500 (£623) between 1978 and 1987. An Everflex vinyl roof, introduced in 1979, could be had for £756 (£942) in 1985, but had disappeared in 1987. (Prices in brackets include UK car tax and VAT).





---
---
Copyright Roger Ivett 2000-2017. All Rights Reserved.